Swingers Date Club or otherwise famously known as SDC is one of the biggest community sites for swingers globally. Since being established in 1999, the site has been the go-to-site for swinging singles and couples to find pleasure, sex, and a lot of other common interests.
They aim to understand their audience and help them find parties, events that enable them to explore their sexual appetite and fantasies. With a huge database of over 3 million people, the site is available in most countries globally, even though most of the users originate from the United States and the Netherlands.
Overall, the site performs efficiently and allows members from the swinging community to interact, have fun and, hopefully, meet in parties and events that enable them to hook-up.

How Many Languages Does SDC Support?
The site supports all the major languages such as English, Spanish, Italian, German, and French.
Who Owns SDC?
The site is owned by SDC Ventures LTD.
So Where Is SDC Based Now?
Even though the site is now global, SDC is still based out of the Netherlands.
When Was Swingers Date Club Founded?
SDC was founded in 1999.
Is SDC Available Worldwide?
Yes, the site is available in all the countries except where the usage of dating sites is banned.
How Old Should You Be To Register On SDC?
You should be over 18 years of age to register on the site.
Can I Use The App Using My Computer?
Yes, there is an official website that has all the necessary features.
How Many Members Do SDC Have Worldwide?
The site has a member base of over 3 million members.

Website Design & Usability
The design of the site is well laid out and explains all the functionalities and features well. The site makers have decided to give it an elegant color by going with a simple dark shade that adds charm to the site's look.
You'll notice that the navigation of the site is smooth and allows people of all age groups to access all the contents of the site hassle-free.
As long as you give yourself some time to understand how things work and once you understand after giving yourself time, you'll not feel like leaving the site and be addicted to using it. Giving the site a swingers' theme was the main lookout for the site makers, and they've managed to retain the appeal well.
Which Browsers Support SDC?
The site is supported by all the major browsers that are currently used in the market.
How Do I Use The Camera On SDC?
The site does not have the functionality of video chatting.

Special Features
The site has tons of features that allow members to communicate through each other and find friends, love, and sexual partners. You can check out who's online and also sort out your filter and save your search options. You can join the various speed dating events that the site moderators put up.
However, this option is available only for paid members. You can also manage your travel itinerary and post your travel plans to let others know you'll soon visit a particular location. The site also offers options to read blogs for free and post your blogs if you have a premium membership. You're allowed to view videos of other users for free if you have a premium membership.
The site allows you to send to and receive invitations for various parties, events. You can also connect with other members through text messages if you have a premium membership.
How Does It Work?
SDS requires a paid membership if you want to enable communication with fellow members of the group. Even though there's a 7-day trial period on offer, you'll not access messages during that period.
Alternatively, you're always allowed to enter chatrooms of the country of your preference but yet, the site may not permit you to interact with the members unless you have a premium membership. This is a good sign from the moderators because, through these stringent steps, they're ensuring that only the serious members are welcome to the site.
On the occasion of you taking premium memberships, communication becomes pretty much more comfortable. Some swinging couples and singles are looking for people to interact, have fun and potentially, meet in parties and events to have sexual fun with. The members you'll realize in this site are incredibly forward-thinking and ask for what they want without a hint of hesitation.
How Can I Message Someone?
You can message anyone you wish to after signing up for a premium membership.
Is Sending Messages Free?
Once you're signed up for a paid membership, you can send messages to anyone free of cost.

How Can You Start Messaging With Someone On SDC?
If you wish to start communication, we suggest opting for a membership, and then you can message anyone after using the search tab and clicking on their profiles.
Why Can't I Access Swingers Date Club?
You'll not be able to access the site if you're facing local internet issues from your provider if the site is down for maintenance and if your country has banned the usage of country dating sites.
How Long Are SDC Bans?
You should be careful about posting any kind of controversial statements or comments that might land you in a soup. Since this leads you to a ban from the site and the site moderators, don't allow anyone back easily.
How Do I Reactivate My Banned Account?
If you wish to reactivate your banned account, you may get in touch with the support team.
Is There An Option To Delete Your SDC Profile?
Yes, you may avail the option to delete your SDC profile if you wish through two methods. One would be to go to your account settings and deleting your profile straightaway. Or you can even talk to the support team to help you out.
What Happens If I Disable The "Show Me On SDC" Option?
If you disable the show me on the SDC option, your profile and information will now be blocked to be viewed by any member.
Where Do I See My Matches?
You can see your matches on a grid-like format after you sign up for a paid membership
How Do I See Who Messaged Me On SDC?
You can check who messaged you on the inbox feature after signing up for any membership packages.
Is It Possible To See The SDC Members Who I Liked?
You can see who you liked on your profile after registering as a paid member for the site.
What Is SDC's Spy Mode?
We could not come across any spy modes on SDC; however, if you wish to hide your dating activities, you can always use the incognito mode.

How Do I Edit My Username In Swingers Date Club?
You can edit your username by going to 'My Account' and further finding options to edit your profiles. However, you should be careful as the site may not allow multiple edits on the usernames. Try and keep a creative, catchy, and an attractive username that'll help you stand out among the crowd.
Why Am I Having A Hard Time Entering The Site?
You'll only have a hard time entering the site if your country has banned dating sites, if your local server has some internet issues or if the site itself is down for maintenance.
What Are The Different Options Of SDC Search?
There are various ways to search for different types of members on the site. You can avail of the filter option that allows you specifically to look for the type of profiles you wish to. Alternatively, you can also look for direct usernames if you're already aware of them. The filter is of two kinds. Basic filters allow you to search for people on the parameters of age, sex, location, and these basic filters. Advanced filters allow you to find out specific aspects such as sexual preferences and all those lines if you want to explore the sexual side and get a brief understanding of it before starting to talk.
Sign Up Process
The layout of SDC has been made simple and efficient. You'll see that the sign-up process will be completed in a matter of a few minutes. The best part is that it also allows you straightaway to jump into the world of SDC and start exploring your swinging side!
Once you enter the home page, you can click on 'Click here to join' to begin your sign-up process. There's a basic questionnaire that'll ask you questions about basic attributes such as gender, orientation, area, etc. Then, it moves on to ask personal questions such as sexual preference, sex of partner preferred, and so on. Answering such questions allows your profile to be ranked higher in the search bar.
Once you're done with this process, the site will then take you to the home page where you're ready now to start exploring the site and find yourself a swinging partner.
How Do I Verify My Email?
You can verify your email id once you get a confirmation link on your email id from the site.
What Happens If I Register Using My Facebook Account?
You can register on the site through a Facebook account like a normal registration. Then most of your profile information will be taken from there.
How Do I Join SDC?
Signing up for this site is an extremely easy and quick affair. It takes around 5 minutes to complete the full process of registering on the site. The platform asks you many swinging related questions too so you can be patient and answer these questions.
Since searching for your choice and interest members later, it helps in getting a bit more detail in the member page's profile information. After registration, the site owners ask you to proceed with the verification of your email id. You can do so by clicking on the mail link and confirming it.
Don't forget to add a beautiful profile photo of yours while registering. Even though it's not a necessity as per the site, it always adds to your profile's popularity and allows members to look for this when searching. An upgraded membership is offered once you get used to the site's functionalities during the 7-day trial period. You can choose to upgrade your membership after understanding what the site offers to you and if you feel it's the right fit for what you're looking for.
Can I Use The Site Without Signing Up?
Unfortunately, the site does not allow users to communicate unless you sign up, and since it's a very less time-consuming process, you should sign up for it.

Users Profile Quality
The profile quality is quite high on this site, and you'll notice that there are more genuine members on this site. The site takes huge pride in allowing safe and valuable dating parties events to members, ensuring that the profile pages are up to the mark and live up to their expectations.
You'll notice that there will be three types of profiles available on the site: single, business, and couple. When you register, you'll only get two types, namely singles and couples, since a business account is usually reserved after directly talking to the site owners. Since it involves a good amount of money to be paid, it's only available for selective profiles.
After registering for either a single or a couple, you can start searching for parties and events with scope for direct hook-ups.
Mobile Applications
The mobile application of Swingers Date Club works in a very similar fashion to that of the site version. It even allows you to upgrade your account to a premium membership. On the app, you can book your itinerary and add your name to guest lists. You should note that to use the app; you'll need high bandwidth and reliable internet connection that doesn't act up suddenly. Since the platform is giving away a site's features on the app, it might take a couple of minutes to load it completely. However, on the mobile website, you'll notice that most of the features and functionalities are similar to those of the app.
Membership Price and Other Payment Method
1 Month: 29.95 USD / Month 29.95 USD/Total
3 Months: 19.98 USD / Month 59.94 USD/Total
6 Months: 16.66 USD / Month 99.96 USD/Total
12 Months: 12.50 USD / Month 150.00 USD/Total
Like most of the dating sites you'd have come across, even SDC offers both free and paid memberships and different benefits. If you notice the payment mentioned above, you'll see that various plans depending on your budget and period that you can choose.
Upon the competition of your 7-day trial period that comes with limited features, you may opt to take any of the memberships to continue having a wonderful time on the site. There's also the lifetime membership extra option. Even though it costs a solid 250 dollars, it comes with great benefits and lifetime usage. There are constant press releases that also put out discounts and vouchers, so do follow their updates to gain massive discounts during special occasions.
Free Membership Features
Free membership allows you to engage in events related to speed dating. It allows you to become an integral part of the SDC community. It allows you to add your travel itinerary to your calendar, which also lets others view your plans to understand if you're in their location. You're allowed to use their invitation program and upload a photo of yourself with video spotlight features.
Is SDC Free?
Yes, the site is free of cost to register and use many of the site functionalities. However, it's advisable to use a premium membership; otherwise, you cannot enjoy the site experience to the fullest.

Can You See If Someone Likes You On SDC If You Are A Free Member?
If you're a free member, you'll not be able to see if someone liked you.
Premium Membership Features
With a premium membership feature, you're allowed to contact the fellow members of the site and update or even choose to edit your profile picture. You're allowed exclusive access to the webcams in the chatrooms and avail the unique opportunity to validate and get validating by fellow users of the site.
You can view all the profiles and pictures and use the Messenger tab's benefits to communicate. You can contribute as well as look at the various blog posts related to swinging. The best part is you can add yourself to any guest list of parties you come across and join the party. Another exciting feature is getting access to the voyeur cam.
Does Swingers Date Club Offer Premium Membership?
Yes, the site offers premium memberships as per the above payment plans.
How Do I Cancel My SDC Membership?
You may contact the SDC support team if you wish to cancel the membership.
Is SDC Membership Auto-Renewed?
Yes, you may avail the option to auto-renew your membership if you wish to.
Can I Get A Refund For Unused Time?
Unfortunately, we could not come across any money back policies.
Is My "Support" To SDC Automatically Renewed Every Month?
Yes, you may avail of this option after checking up with the support team.

I Am Not Satisfied With The SDC. Can I Get My Money Back?
There are no money back policies that were visible for us on this site.
How Will My SDC Support Appear On My Credit Card Bill?
It'll appear as a discreet credit card bill on your statement.
Can I Give Support To Other SDC Members?
You may if you wish to. However, it's advisable to check up with the support team if you're eligible to send support to other members.
Can I Send Support For Just A Month?
You should be able to but do check-ups with the support team.
Is SDC Really Safe?
Yes, the site is safe by ensuring that all international protocols for dating sites are strictly followed. It's an overall safe and legit site that provides the comfort of utmost security to its users. If anyone's found guilty of malicious intents or money scams, site moderators take strict measures.
Are SDC Forums Threads Moderated?
Yes, the site moderators do a wonderful job of moderating the site since it has over 2 million members, there's a lot of work behind the scenes. Apart from monitoring the content that gets posted on a dating site that deals with a sensitive subject such as swinging, the site moderators will also have to do an additional job of looking at issues from the members.
How Can I Filter Who Can Message Me On SDC?
You can filter out who can message you on SDC by looking at the inbox in a grid-like format that appears either by time or by location. To enable this, you'll first need a premium membership.
What Security Features Does SDC Have?
The site is built with a 256-bit SSL encryption that ensures complete protection for the members' data and confidential information.
How Can I Block And Report A Suspected Scammer?
You can block a suspected scammer by clicking on their profile pages and directly blocking them or speaking to the customer support team.

What Will Happen To A Member Who Uses An SDC Account To Solicit Money?
If anyone's found guilty of soliciting money, they'll be dealt with severe punishment by the site moderators.
Which Information Shouldn't Be Posted In Your SDC Account?
You should ideally avoid posting any controversial statements that may be offensive to other users.
Are SDC Chats Encrypted?
Yes, the chats are encrypted with a 256-bit SSL standard encryption.
Can SDC Track You Down?
Yes, the site can track you down if required only if your ISP is available.
Can SDC Be Traced By The Police?
The police can trace you through the ISP, but ideally, it happens extremely rare when there's a crime committed in seriousness.
If you have any issues with your privacy, you should get in touch with the support team.
Can I Delete The Information That I've Already Submitted To SDC?
No, once information is entered, you'll not be able to delete it. You can only delete it with the whole profile.
Are There Fake Or Scam Members On Swingers Date Club?
There can be some scammers on the site, but most of the members are genuine.
Company: SDC Ventures LTD
Address: PMB-428, 2054 Kildaire Farm Rd, Cary, NC, 27511
Phone: 866-417-9956 / 919-283-4414
E-Mail: helpdesk@sdc.com
Alternatives
Elite Singles: A perfectly build site that focuses on bringing professionals together, Elite Singles is a highly sought-after site that's been doing the rounds for a while.
Badoo: A dating site that works more like a social media networking site, aiming to provide the look and feel of a social media site and the benefits of dating, networking, and hook-ups.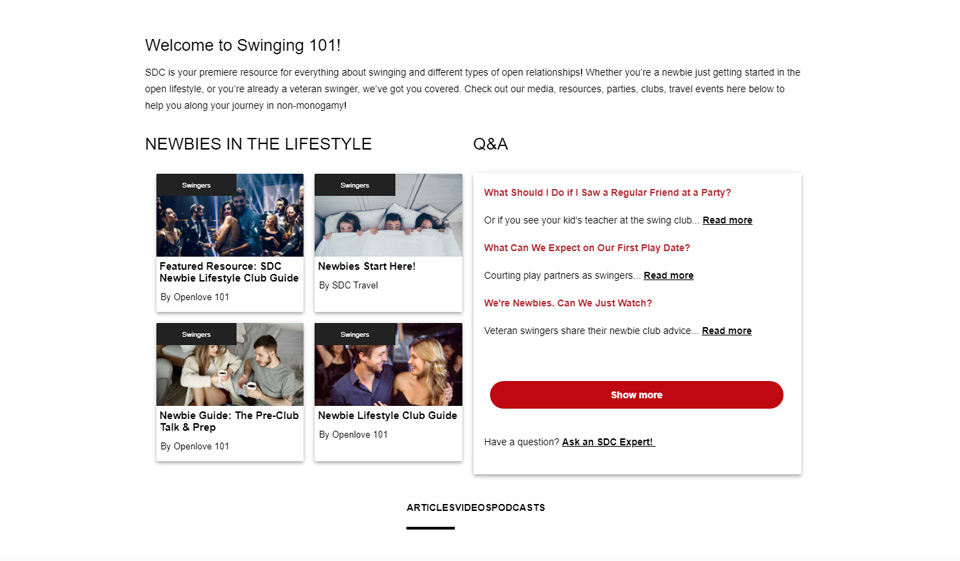 Real Life Review
"I've always wanted to understand what swingers are about. However, our society is very judgemental, and I could not share this information with anyone. But since I came across SDC, I've been addicted to it and meet more people like me!'" – Ryan, 35.
Is SDC The Best Dating Site/App?
It's one of the best sites that's currently available, especially in the swinging niche.
Can I Unmatch An SDC Member?
Yes, if you may wish to, you can unmatch an SDC member.
Is SDC A Hook-Up App?
Yes, it's a hook-up app that also acts as a dating site, allowing swinging singles to meet and hook-up.
Conclusion
Since swinging is always a controversial topic as it goes against what society stands for, SDC has done a remarkable job addressing that issue first. Apart from that, the platform provided to bring in all the sexually active singles or couples who're interested in swinging. The site is well-detailed and is high on sexual content. If you're into swinging and been wondering how to deal with it, SDS is the place to be for some swinging fun.